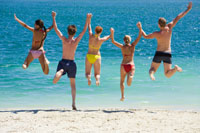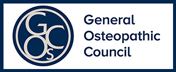 Osteopathy for Children/Teenagers
Children of any age can benefit from Osteopathy. As young people grow up, the body undergoes a number of changes. Children can suffer from musculo-skeletal problems caused by carrying heavy school bags, from sporting activities or from growth related posture problems, which carry the risk of sprains and strains and which can affect the well being of your child.
Osteopathy can prevent problems and allow the body's framework to heal naturally and adjust to the postural and hormonal demands made on it. It can help to release these stresses on the body, treat an irritated nervous system, general restlessness, correct poor posture, or reduce muscular aches and pains
After treatment, patients generally experience a better sense of well being finding they have more energy, sleep better, concentrate better and generally have a greater ability to resist disease.
Osteopathy could make a major difference to your child, ensuring they stay fit and healthy.
You do not have to have symptoms to see an Osteopath; you can have an assessment to make sure everything is functioning to its optimum.

© Judith O'Sullivan Osteopathy, Mallow & Fermoy, Co. Cork 2014